Grab a bite to eat, or two, from the variety of WF! Eats food vendors offering an array of local cuisine, as well as your traditional Festival treats. Dive right into a hot slice of pizza, grab a corn dog for the next show, or bring down the heat of the day with a fruity snow cone. Food vendors are located throughout the Festival grounds, and serve all day. Each vendor accepts cash and credit cards. ATM machines are located in designated spots for your convenience.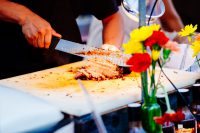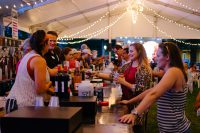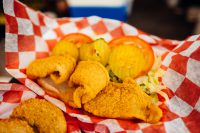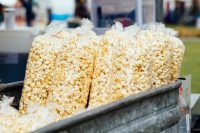 ---
Thank you to our 2017 WF! Eats vendors:
The Skillet
American Smokehouse 
Kona Ice 
Ben & Jerry's 
BratHaus 
Conway's Corndogs 
Crazy Otto's
i Fratelli Pizza
J Bob's Kettle Corn
Kona Grill 
Marble Slab 
Mario's 
Maui Wowi 
Mrs. Lively's Southern Cuisine 
Pizza By the Slice 
Satay Hut 
Sonny Bryan's 
Spudzilla Potatoes 
T.C. Roasted Corn 
SoCal Mini Donuts
---
Interested in being a 2018 WF! Eats Food Vendor?
Press Kits will be accepted till February 25, 2018, and must include the following information:
Color photograph of your booth set-up, including size specifications.
A complete menu of food items you will offer, including size and price.
Photographs of your food presentation may also be helpful, especially if you are offering a unique item.
Reference list of other events you have participated in (contact information for Festival personnel is required).
ACCEPTED VENDORS are required to turn in a Comprehensive General Liability Certificate of Insurance in favor of the City, such insurance to afford protection to the limit of not less than $1,000,000 in respect to bodily injury or death to any number of persons in any one accident, and to the limit of not less than $1,000,000 in respect to property damage. Such policy shall name the City of Richardson as additional insured.
Completed Press Kits can be sent via email to Spencer Doyle at spencer.doyle@cor.gov or by mail to:
Wildflower! Concessions
c/o Spencer Doyle
411 W. Arapaho, Suite 208
Richardson, TX 75080