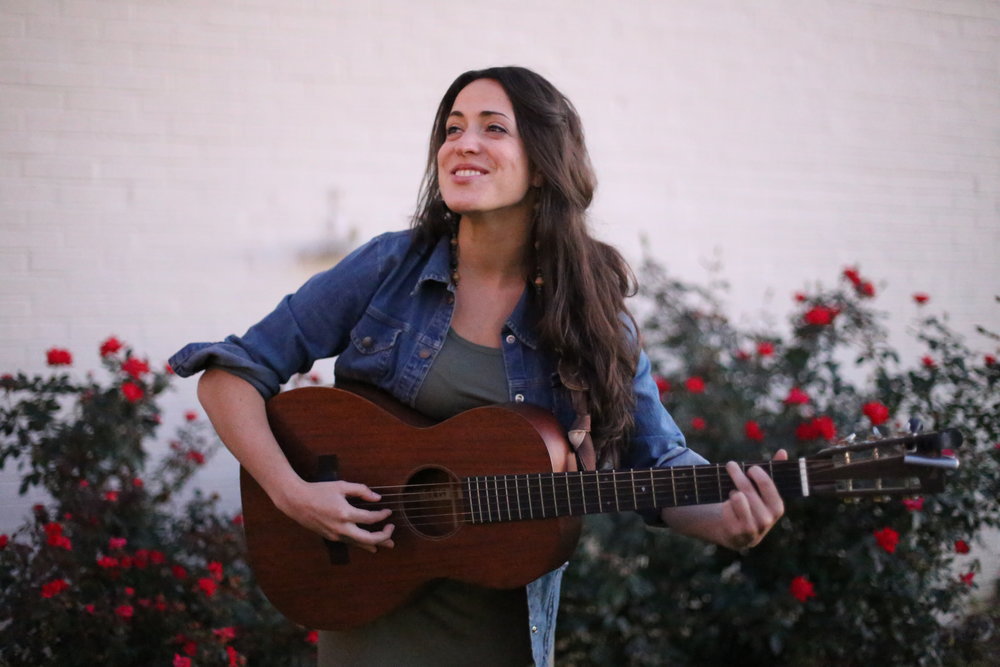 Mia Rose Lynne has made a name for herself as an up and coming award-winning singer and songwriter. She's originally from Novato, an eclectic upper-middleclass town in Northern California. And now, living in "Music City, USA" — Nashville, Tennessee, she's joined the ranks of "young, progressive songwriters working outside the pop country mainstream," according to the bio page on her website.
Lynne spent a lot of time working on both the theatrical stage as well as the music stage, honing her craft through songwriting and live performances, as well as garnering accolades for her efforts along the way, including taking home the First Place prize at the 2017 Kerrville Folk Festival, Second Place at the 2017 Rocky Mountain Folks Festival Songwriter Showcase Contest, and the 2014 American Songwriting Awards, and more.
This year, Lynne has been advanced as a finalist in the Wildflower! Arts and Music Festival's Al Johnson Performing Songwriter Contest, and it's because of this that we interviewed her to get a better feel for what she's all about:  how she came to enter the competition, what her background in music is, and what inspired her to become a performer and songwriter.  Lynne is fun, full of energy, and it seems she's got the right idea about how to celebrate if she wins the contest this year.
WAMFest: What was it that made you decide to enter the songwriting competition, and how did you hear about it?
Mia Rose Lynne: I heard wonderful things about it through friends that had participated and decided to apply because after making it into the Kerrville Folk Festival New Folk Contest last summer, I realized the value of these competitions. I have never been a very competitive person and feel that because songwriting is so subjective, it's a strange thing to "compete" at. I'm sure most of the other participants would agree. However, these contests are wonderful places to form new friendships with others in the singer-songwriter world and Kerrville proved to really make me feel a part of a community. It also inspired me to go on to participate in the Rocky Mountain Folks Festival Songwriter Showcase Contest and to attend Southwestern Regional Folk Alliance and then Folk Alliance International. Of course, the honor of being a finalist and/or winning these prestigious contests is validating and helps to be taken seriously by industry professionals, but I do mean what I say: the relationship building is the most valuable and long-lasting takeaway.
WAMFest: When did you first realize you wanted to become a musician, and did you start off with learning the guitar, or was another instrument your first?
Lynne: I grew up singing harmonies in the family band and it wasn't until after college, in which I studied musical theatre that I started playing around with songwriting and beginning to teach myself guitar. It was a fairly secret hobby for a couple years and it wasn't until I wound up in Nashville for rehearsals for a musical theatre cruise ship gig, of all things, that I became inspired by other writers and started to take it more seriously.
WAMFest: When did you start singing, and what was it like for you on your first public performance? Were you scared? Were there any "jitters" or "butterflies" to deal with, and if so, how did you deal with that?
Lynne: I always get jitters and I think that a little bit of that is good because it's energy that means I care deeply about what I'm doing. That said, I've been singing in public since I was a kid I sang with my parents and performed in musicals, and while the jitters never really go away, it does get easier to deal with them over the years.
WAMFest: In your opinion, what makes a song "good," and is there a specific formula for writing a good song?
Lynne: I think all the technical elements of songwriting are helpful to know and understand, but I try not to think about them too much while writing because in songwriting, rules are allowed to be broken and sometimes they should be. I am still learning so much about songwriting all the time, so I don't claim to be an expert here! But I think a good song is a one that makes the listener feel something and, to me, it's as simple as that.
WAMFest: How does a song's subject come to you? Is it something that is spontaneous, or do you pick a topic and write about it?
Lynne: Often, melody comes to me first and the tone of the music will guide me into the subject matter. I wish subject matter came easier to me than melody because I think that's the hardest part to come up with!
WAMFest: Where are you and your music going?
Lynne: I honestly don't know the answer to that, but I'm grateful to have the honor of people wanting to listen and I'm just going to keep taking opportunities as they come and seeing where they lead.
WAMFest: What do you see yourself doing in the next three to five years with your music, and how are you going to go about achieving those goals?
Lynne: I want to continue to make quality music that touches people and the more people I can reach the better. In addition to putting out more albums and touring here and there, exploring other avenues like licensing my songs is exciting to me. I think that participating in contests like this and attending Folk Alliance conferences is helpful in learning how others are surviving in this crazy industry in which we've decided to work. We lift each other up, learn from each other, and inspire each other. It's the best.
WAMFest: If your entry is chosen as the winner, what will you do to celebrate your win?
Lynne: I will be incredibly honored and probably celebrate by eating all the delicious Texas tacos with my Texas buddies. Both of those statements hold true if I don't win, too.
Mia Rose Lynne will compete in the Al Johnson Performing Songwriter Contest on Saturday, May 19, 2018 at 11:30 a.m. on the United Healthcare Singer Songwriter Stage in the Eisemann Center. Mia Rose will perform on Sunday, May 20, 2018 at 4:00 p.m. on the CityLine Stage at the 26th Wildflower! Arts & Music Festival. Tickets available www.wildflowerfestival.com and more information about the contest: http://www.wildflowerfestival.com/songwriter-contest/.
Website:  https://www.miaroselynne.com/
Facebook:  https://www.facebook.com/miaroselynne
Twitter:  https://twitter.com/miaroselynne
Instagram:  http://instagram.com/miaroselynne
YouTube:  https://www.youtube.com/channel/UCgv2SyI5vd-I-8NKT6RPzoA