As her band, True North's website states, "Kristen Grainger, (vocals, ukulele) is the voice of True North. Her songwriting has received national recognition — "Be Here Now" was named Song of the Year, folk category, for the 2015 IMEA Awards; she placed second at the 2015 MerleFest Songwriting Contest; and she was one of ten finalists in the 2014 Telluride Troubadour songwriting contest, performing solo in front of 10,000 'Festivarians.'  Kristen and Dan Wetzel's song, "Mountain Boy" was featured on the European World Bluegrass Festival's compilation CD released in 2008. The duo also was chosen from more than 800 entries to perform two originals, "Limbo" and "Doris Dean," in the finals at the Kerrville New Folk Songwriters' Contest. Their song "Hard Place to Suffer (And That Really Gets Me Down)" won the 2010 Wintergrass Song Contest."
All those accolades are very impressive, indeed. What is more impressive is that Kristen was accomplishing all this while also working as the Communications Director of Katherine "Kate" Brown, the Governor or Oregon, and she has also served as Willamette University's Vice President since 2002. Grainger seems very comfortable in the role as a communicator — which any good songwriter should be. She's not just the voice of True North; she's also one half of the songwriting duo that she and her husband, Dan Wetzel form together.
We posed a few questions to Grainger; about what inspires her writing and when she realized she wanted to write music, her passion for folk music, the uniqueness of her writing style, the state of the music scene where she lives in Oregon, and more. Her answers are delightfully candid, interesting, and refreshingly humble.
Wildflower! Arts & Music Festival: What was it that made you decide to enter the Al Johnson Performing Songwriter Contest, and how did you hear about it?
Grainger: A well-written song is a powerful thing. There are a handful of national contests — Telluride, MerleFest, Kerrville, Wildflower! — that have earned the respect of artists and audiences by bringing new songs and songwriters to the world's attention; people like me, scribbling lyrics on the backs of envelopes, strumming away in dim little rooms after work. When my band, True North released a new album in January, a couple of people suggested my songs might be a good fit for Wildflower!; I am thrilled they were right.
WAMFest: When did you start out as a singer/songwriter, and has music always something you were passionate about?
Grainger: Music feels as fundamental and natural to me as breathing. I have been singing since I could talk, and I play various instruments, mostly self-taught. I don't remember learning how to sing harmony; it feels like something I have always been able to do. That said, I grew up in a family that valued achievement, particularly in science and athletics. They didn't take my musical affinity or talent very seriously, so I didn't either. I wrote poetry, short fiction, essays, toyed with journalism, but no songs. For years, it was just this thing inside of me, hovering, waiting.
There are early bloomers, and there are late bloomers, and then there are those buds that never do anything, they just rot, closed up tight, right on the vine. With no real musical community around me and a demanding job in politics, I was in danger of becoming one of those non-bloomers when I met Dan Wetzel. Dan's a very talented singer-songwriter who had been touring solo. He had heard me sing a few times and liked my voice, wanted to collaborate. I wrote and performed my first original song for him when I was 36 years old. Over time, our worlds combined, creating plenty of space for me to write and perform original music with him.  I continue to be astonished at the response to my music; it makes me wonder why I would want to do anything else.
WAMFest: What was it that drew you towards writing and performing acoustic folk music?
Grainger: To paraphrase John Lee Hooker, "It's in me, and it's got to come out." Once I got out of my own way, that is.
WAMFest: What is it that separates your music from others in your genre? What makes it special for you?
Grainger: I like the challenge of turning a story into a song and doing it deftly. Irony is one of my favorite tools, and I'm a sucker for deadpan last lines.
I love how people respond to my music – it brings them together, it makes them think, it moves them. I can see it happen from the stage, person by person. There are people at every show who come to the merchandise table at the break and buy a copy of every single album we have ever made. And when I hear a complete stranger singing along with one of my songs, word for word, well, there is just no better feeling than that.
WAMFest: Who would you point towards as your musical inspiration?
Grainger: In terms of whose song craft I admire, there are so many, but let's start with Rickie Lee Jones, Patty Griffin, John Prine, Gillian Welch, Brandi Carlile, Tom Waits, and Hayes Carrl. My husband, Dan Wetzel, is hugely inspirational in all aspects of crafting songs.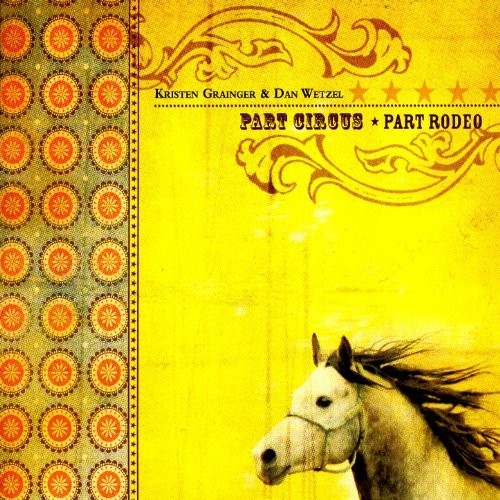 WAMFest: What is it for you that makes a specific subject worthy of writing a song about?
Grainger: For me, songwriting is like making a piecrust – if you handle the dough too much, the crust becomes tough and inedible. You have to piece it together gently, with a light touch, if you want it to turn out. That's how I feel about a songwriting. It can't be forced, over-thought. When I feel that start to happen, I put it aside.
In terms of subject matter, I like the idea of snapshots – capturing the extraordinary aspects of ordinary life. But there has to be a story, and the story has to move me. I like songs that take the listener on a journey, that transform them in some small way over the course of 3-4 minutes. Story songs are a good way to do that.
WAMFest: How would you describe the music scene where you live, and are they supportive of local artists and original, independent writers and performers?
Grainger: Oregon loves Americana, bluegrass, and folk music. There is a strong artists' network and community with a lot of collaboration and support for each other's work. We — my band, True North — have a strong following in the Pacific Northwest and sell out venues from 80 to 800 seats. We even have the auspicious honor of counting the Oregon Governor and First Gentleman among our biggest fans.
WAMFest: Where do you see yourself and your group's music in three to five years from now?
Grainger: Know anybody at "Live from Here" with Chris Thile? Seriously, I'd be happy with lots more chances to play for audiences who love this music — as long as the seats are nailed down and no one ever interrupts a song to say, "Number 63, your pizza is ready."
WAMFest: If your entry is chosen as winner, what will you do to celebrate?
Grainger: A victory dance, duh.
Kristen Grainger will compete in the Al Johnson Performing Songwriter Contest on Saturday, May 19, 2018 at 11:30 a.m. on the United Healthcare Singer Songwriter Stage in the Eisemann Center. Kristen will additionally perform on Saturday, May 19, 2018 at 8:00 p.m. on the CityLine Stage at the 26th Wildflower! Arts & Music Festival. Tickets available www.wildflowerfestival.com and more information about the contest: http://www.wildflowerfestival.com/songwriter-contest/.
Website: www.truenorthband.com/about-true-north-kristen-grainger/
Facebook:  https://www.facebook.com/kristen.grainger.77
YouTube:  https://www.youtube.com/channel/UCuNpXI4UvrODrPiPqfIv3KA